In many ways, remodeling your home in Northeastern Iowa can be as rewarding as buying a brand new residence. It's exciting to see what sort of transformation you can accomplish with the right home improvement project.
As you prepare for your home restoration or addition in Independence, Iowa, one of the first items to consider is how you will pay for the project. Many homeowners do not possess enough funds in their bank account to cover the entirety of the remodel, especially if they envision as massive overhaul of the master suite or a major upscale kitchen expansion. Often financing a home improvement project requires drawing from one or more sources.
Ways to Pay for Home Remodeling in Northern Iowa
Choosing how to cover the costs of your home renovation or addition depends on several factors, including the size and scope of the project, the anticipated timeline, your financial situation, and other personal circumstances. Here are some of the most common ways to pay for home improvement:
1. Cash
Saving up and paying out-of-pocket for your kitchen, bathroom, or whole home remodel is arguably the best choice when it's available. You don't accrue any interest and there is no risk of delay in making payments to your remodeling company. If you're attempting a smaller project, paying with cash may be doable. However, you don't want to leave yourself in a position where your family experiences an unexpected crisis and you've spent all your emergency cash reserves on home improvement. Use your savings prudently to cover at least a portion of the project.
2. Credit Cards
Another option is to use your primary line of credit or a credit card that accumulates points that go toward rewards. If you have a high credit score, a reasonable interest rate, and a history of paying off your monthly credit cards bills, this can be a good option for a small, quick project. You can even apply for a new credit card, as many financing companies offer incentives like 0% APR for the first few months.
However, most people don't have a credit limit that would enable them to cover all the costs of a major remodel. Additionally, you don't want to risk not being able to make payments as scheduled and suffering the heavy accrual of interest.
3. Home Equity Lines of Credit (HELOC)
A home equity line of credit (HELOC) is one of the most common types of financing for an improvement project. It is a type of secure loan that is backed by your home equity, so you may qualify for lower interest rates. You are set up with a revolving line of credit from which you can borrow as you need the money, which is beneficial for a lengthy or ongoing home remodel. The downside is that your home is used as collateral. If you don't make the payments on your HELOC, the financing company can foreclose on your home. Additionally, the variable interest rate means your payments can fluctuate based on market conditions.
4. Home Equity Loans
Home equity loans, also referred to as second mortgages, are similar to HELOCs in that you borrow against the value of your home. The major differences are that you are given a lump sum up front—which you then pay back over a set number of years with regular monthly payments—and the interest rate is fixed so you do not have to be concerned about market fluctuations.
One disadvantage of a home equity loan compared to a HELOC is you have less flexibility when it comes to borrowing and making payments. If your project stalls or gets delayed, you still have to make payments on the money you've already borrowed.
5. Home Improvement Loans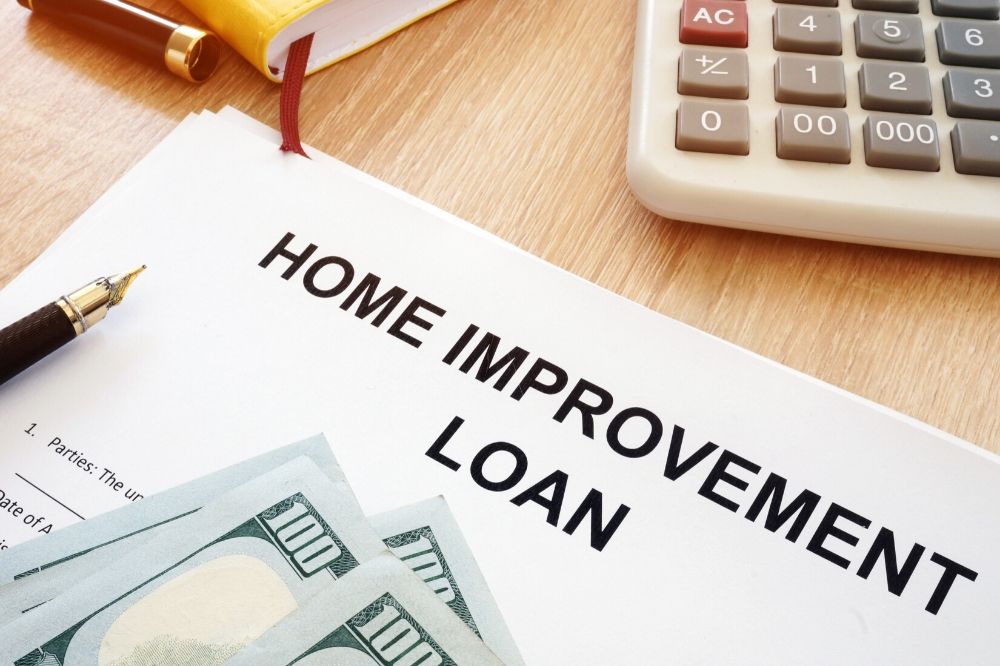 You can also talk to financing companies about a home improvement loan, which is a type of unsecured personal loan that doesn't require you to use your house as collateral. Instead, your qualification and interest rate for the loan are based on your credit score. The interest rates for unsecured loans are typically higher than those associated with HELOCs and home equity loans. Additionally, they tend to have smaller loan amounts and a shorter repayment schedule, which makes them most suitable for small to mid-sized home improvement projects, such as a new roofing system or a bathroom makeover.
6. Mortgage Refinances
Another option that depends on your home equity is refinancing your current mortgage. When you refinance, you are given a new interest rate and loan amount. With a cash-out refinance, the difference between your old mortgage and your new one is distributed to you in a lump sum that you could put toward your home improvement project.
Before refinancing your mortgage, consider that you are likely extending the life of your loan and you also have to pay for an appraisal, taxes, origination fees, and other closing costs. If you are able to secure a lower interest rate now than you were in the past, however, refinancing may be worth it.
7. Government Loans
In a few, very select cases, you may qualify for a government loan. Veterans Affairs offers low-cost, no-down-payment rehabilitation and renovation loans that veterans and service members can use on home improvement. Additionally, you can apply for a Title 1 Property Improvement Loan through the U.S. Department of Housing and Urban Development (HUD). The Title I program insures loans of up to $25,000 for single-family homes. You must put the money toward renovations that improve the safety and livability of the house, not just the appearance, which means certain upgrade don't qualify.
In Iowa, the Section 504 Home Repair program also provides loans to very-low-income homeowners that can be used to repair, improve or modernize their homes. Grants are available to low-income seniors to remove health and safety hazards at their residence.
Home Improvement: You Get What You Pay For
When you're first confronted with the estimated costs of remodeling your Northern Iowa home, it can feel a bit daunting. A common response is to look for ways to lower costs by whatever means possible. While the desire to save money is natural and prudent, it's important to keep in mind that your home is one of your most valuable investments and you get what you pay for when it comes to remodeling and upgrading.
While you may be tempted to do certain renovations yourself or go with the lowest-bidding remodeler, that can sometimes lead to mistakes or shoddy workmanship that then costs extra to redo. Cutting corners to save a little up front is not worth the time, money and headache to fix the problems that are created.
Hiring a Remodeling Company in Northern Iowa
No matter what type of financing or funding source you use for your home improvement project near Independence, Iowa, you want a remodeling team by your side that understands the value of your investment and will help you make the most of it. Our dedicated in-house professionals at Home Indeed oversee a step-by-step design-build remodeling process that allows for clear communication, accountability and budget control.
Sources
"5 Best Ways to Pay for Your Home Remodel Project." The Spruce. Accessed online at https://www.thespruce.com/ways-to-pay-for-your-home-remodel-project-1821713
"Payment Options for Home Improvement Projects." HomeAdvisor. Accessed online at https://www.homeadvisor.com/r/payment-for-home-improvement-work/
"How to pay for home improvements." Bankrate. Accessed online at https://www.bankrate.com/loans/home-improvement/how-to-pay-for-home-improvements/